"

His confidence in performance tells the tale of a man that has no need to prove himself, whatyou see is what you get, and with no airs and graces, he does exactly that, right in front ofyour eyes from centre stage. Bob hones his style to one of his own creation, giving us a uniquetwist on "Alternative Country", where he speaks of not only the heart and soul, but real lifesituations, experiences and observations giving us a first-hand view into the lifeof a true professional." - Ian Davies
— International Music Journalist and Director of Core Global Media

PRESS RELEASE
Bob Spring is a rapidly emerging singer and songwriter who specializes in alternative country music. His latest release is a long-awaited treat for country music fans of all ages. Championing themes of diversity and passion, his 5th solo album proves his authenticity as an underrated example of generational talent. With »I woke up like this«, Bob Spring, one of our greatest poets, speaks out on his fifth solo album. Lines like: "It's not a bad life it's just a bad day" or "In my dreams I look at myself and I can see the fire in my eyes" get in your bones. I could fill this whole page with his strong lyrics. But it's better to grab your album and the book with the lyrics to it and retreat to a quiet corner somewhere - what more does a person need?
His lyric is what I have come to appreciate as American storytelling from authors such as Hemingway, Faulkner, Kerouac, and Salinger. This somehow dry style that doesn't sugarcoat anything, romanticizes nothing and with this certain serenity makes a lot of things resonate. Damn, that Bob Spring is good. I run his new shard »I woke up like this« and it sucks me in. It's just like I said to a colleague the other day: once you've heard Bob, seen it live, you' re kind of addicted to it. The guy is like a drug that once you've had it you want it again.

Bob Spring's songwriting is also outstanding - every note is exactly where it needs to be. Mandatory somehow. His unique voice sounds very lively and close-up on his new album, simply stunningly strong. He doesn't need to put on a show: Bob has a touchy, full, male voice with edges, and he knows what to do with it.
(D.T.Koller for Echo Kollektiv News)
Music & Lyrics
LYRICS DOWNLOAD
Click the image below and get all the lyrics for free right now. The .pdf document download should start automatically.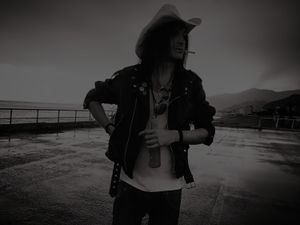 BIOGRAPHY - BOB SPRING
Living the true rock n roll lifestyle as a singer/songwriter, Bob Spring has spent many dedicated years trying to cut his teeth in the industry and perfect his craft. One thing that stands out with this truly inspirational performer is the love of the songs he has written as he almost cradles them from the footlights, almost nurturing them, as if they were meant as a personal performance just for you. Each track has been carefully crafted to give every nuance time to evolve in his mind, before releasing it to the world. His confidence in performance tells the tale of a man that has no need to prove himself, what you see is what you get, and with no airs and graces, he does exactly that, right in front of your eyes from centre stage. 
With a Swiss/Italian/American origin, Bob hones his style to one of his own creation, giving us a unique twist on "Alternative Country", where he speaks of not only the heart and soul, but real life situations, experiences and observations giving us a first-hand view into the life of a true professional. His journey started at the tender age of five as he took up the violin, but as soon as he discovered his voice, it left him with not only a problem, but a dilemma also, as both elements don't go together. A choice had to be made, and in Bob's case it was the right one. Luckily the transition from Violinist to Guitarist was an easy one as the voice was already there. By the age of fifteen, Bob started his first band, but it wasn't until 2000 that Bob's success started to shine as the lead singer of a band called "Backwash", achieving International Recognition, including a record deal with the Houston Texas based label Perris Records. 
In 2007 he started his solo-career and since then wrote the incredible amount of more than 1200 songs – mostly produced and arranged in his home studio. "I am a painstaking songwriter, even though I often find it pretty hard to stay focused" he describes himself. Bob released his first solo EP "West End EP" (2009) followed by the LP "Run From Death" in June 2013. In May 2014 he released his second full length album named "Dust And Arrows". October 2014, marked the start of The USA Tour starting in New York, and continued to blaze a trail through Pennsylvania, Maryland, North Carolina, Tennessee, Texas, Nevada, Arizona and California which lead to nineteen performances across the United States of America, from small bars in New York City to legendary venues like "The Basement" in Nashville, Tennessee, the WDVX Blue Plate Special Radio show to the Whisky a go go in Hollywood, Los Angeles, California.

2015 marked the start of Bobs first Album with his brand new live band. "The Calling Sirens" and played at the world renowned Montreux Jazz Festival in Montreux, Switzerland which resulted in performances with Paolo Nutini, Sam Smith, Portishead and many more taking Bob on to record three LIVE videos with 5 cameras. In 2016 Bob dedicated a FREE album to the late Michael Kral called "Flesh and Rust", a great tribute to a man who was almost a Father figure to Bob over the years and close personal friend.
Since then, Bob has released several new singles such as "The Darkest Place", "Spit Me Out and Lick Me Up" and "Gone when you wake", including a compilation of cover songs that he had performed over the years. In May 2016 Bob Spring & The Calling Sirens headed for their first tour in Ireland.
Two years later, in October 2018 the second Bob Spring & The Calling Sirens album "DARK COUNTRIES" was released . A masterpiece!  As a repentless songwriter with an enormous output, the songs kept coming and 2019 was the right time to set up some plans for the coming solo releases. As you can imagine, that's a whole lot of work for a single person, without a management, doing literally everything wether it's the artwork, the website, the social media stuff, the financial plans or the videos and so on... The next solo record, "I woke up like this" should have been released by Spring 2020. Due to the global pandemic Covid-19 situation (lockdown, travel shut down, etc) it wouldn't have made sense to release the album since the initial plan was to go on tour again. (Europe, Canada, USA). And then, on top of it all, the USA were struggling with their old demon, racism.  Bob had the idea to release a concept album about the "American Dream" and to stand up against social injustice the racism and the malpractice of law empowerment happening day by day. "American Dream" and its 14 songs were released digitally on July 4th 2020. 
In 2021, Bob released two more singles, "Georgia" and "Smooth Sea", both of them were released as a studio- and a live-version. In addition to numerous single releases during the pandemic, Bob Spring has worked on various international projects, mainly as a songwriter. Shortly after the first lockdown, it was clear that releasing his fifth solo album would make little sense. This and other tragic events in the United States prompted Bob to take a stand in solidarity with black people in the United States. This happened with the release of the concept album "American Dream" in summer 2020. The album was included in the playlists of several national and international radio stations and was even awarded 8 out of 10 stars by the Americana Music Association UK! Time flies and Bob is constantly writing songs and producing them in his studio. 
At the end of 2021, his repertoire will number a little over 1300 of his own songs. In spring 2022, the releases of the single "Black Hope Yard" and the cover song album "Noriginals" followed, on which Bob interpreted some of his favorite pieces by Dolly Parton, Hank Williams, The Avett Brothers, and many more. 
April 2022 – Finally, Bob Springs 5th solo album «I woke up like this» is released! Along with the music and videos, a book will also be released in which Bob will provide a short story behind each song's creation and/or inspiration. Of course, the paperback also includes all the lyrics to «I woke up like this».
CAREER HIGHLIGHTS TO DATE
VIDEOS